2-Immerse at half time
The 2-IMMERSE project has just past its halfway point, with another 17 months to run until the end of November 2018. So this seems like a good moment to take stock – and also to breathe life back into our blog, which needs to be much more active than it has been to date. Our intention now is to post at least once a week, on Mondays, and to contribute a wider range of reflections on our research and progress, and on related topics. You can also keep up to date on this via our Twitter feed @2Immerse.
The key outputs are our public deliverables, which can now be found here. Those papers that are probably of most interest beyond the project include (with links that take you to downloadable .pdf files):
D4.1 Prototype Service Descriptions – Initial Version
The four multi-screen service innovation prototypes that will be developed by 2-IMMERSE are described in this document. They are called "Watching Theatre at Home"; "Watching Theatre at School", "MotoGP at Home" and "Watching Football in a Pub". For each service innovation prototype the market context, the social context and the trial plans are described. Whilst the use cases are described very specifically, it seems clear that many aspects of service innovation concepts will have much broader applicability.
D3.1 General Concepts, Designs and Interactions for Multi Screen Experiences
This document outlines the concepts at play in the design of the multi-screen experiences under development in 2-IMMERSE for the project's four pilots.
D2.1 System Architecture version 1
This document describes the system architecture being developed by the 2-IMMERSE project. This architecture is designed to enable the four multi-screen service prototypes that will be delivered through the project. The System Architecture is layered as a set of platform services, a client application architecture and production architecture. The system architecture is a work in progress; it will evolve both as we refine it and specify it in more detail, and as we deliver each of the multi-screen service prototypes through the project.
D2.3/D5.1 Distributed Media Application Platform and Multi-Screen Experience Components: Description of First Release
This document describes the first release of the 2-IMMERSE Distributed Media Application Platform, Multi-Screen Experience Components and Production Tools that have been developed for the project's first service prototype, "Watching Theatre at Home". It provides an illustrated tour of the project's technical achievements to date, along with details of the current status of the platform and components and key features developed beyond those described in deliverables D2.1 and D2.2.
Earlier this year we organised our first trial with the Theatre at Home prototype, which was a fascinating experiment even if the results were mixed. We learned an enormous amount from the trial, and it tested in numerous ways the system architecture that the 2-IMMERSE team has spent many months building.
The prototype service allows two households to share the experience of watching a theatre performance together with the production being presented on a TV screen. Each household has a second screen device, a tablet, and can use this to access synchronized information streams and communication resources directly from the provider of the broadcast. The experience is curated to mirror aspects of the ritualised nature of going to the theatre. The experience thus allows users to:
Chat to each other (using video chat) before and after the performance and during the interval
Receive warnings, as they do when they visit the theatre, that the performance was about to start.
Access additional material related to the production, much as they would in a theatre programme.
Send messages to each other discretely during the performance using text chat.
A detailed exploration and evaluation of the Theatre at Home trial is now available in our deliverable D4.2 Theatre trial evaluation results (link to .pdf)
We are confident that our platform is now appropriately flexible and sufficiently robust to allow us to run our next set of trials for the MotoGP at Home prototype alongside the British Grand Prix event at Silverstone, 24-27 August 2017. More details of our work at Silverstone will be featured here.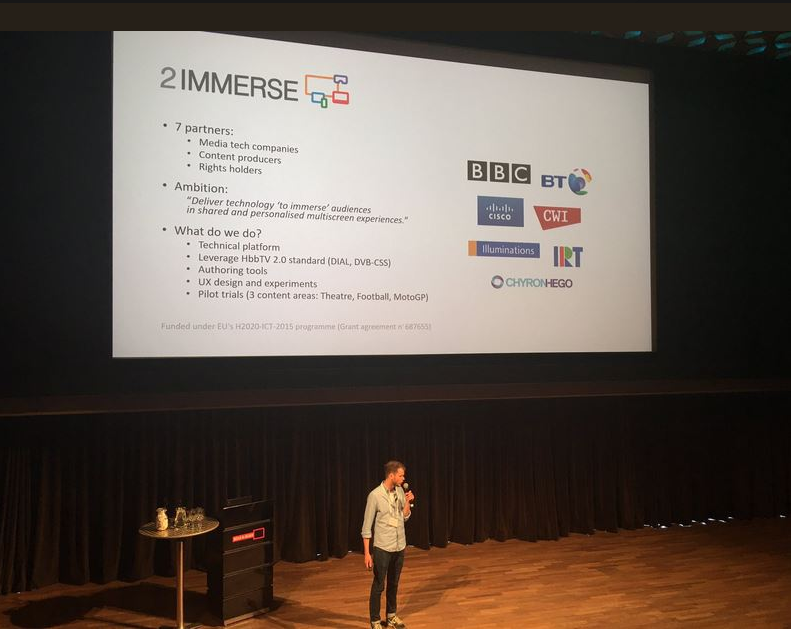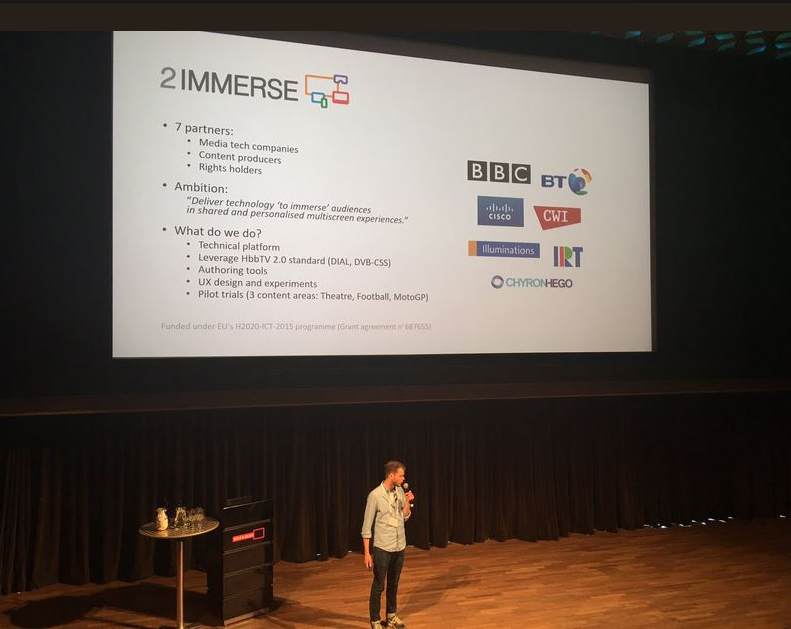 One other welcome piece of news about the project is that 2-IMMERSE won Best Paper Award at the recent ACM TVX2017 conference and trade show at Hilversum in The Netherlands. The project successfully demonstrated our Theatre at Home prototype at TVX2017 – and the abstract for this presentation, 2-IMMERSE: A Platform for Orchestrated Multi-Screen Entertainment, is available here. And thrillingly, Best Paper Award was given to 'On time or not on time: a user-study on delays in a synchronised companion-screen experience', authored by IRT's Christoph Ziegler (pictured above at TVX) and Christian Keimel and the BBC's Rajiv Ramdhany and Vinoba Vinayagamoorthy. A sliver of the award citation is our header image above.