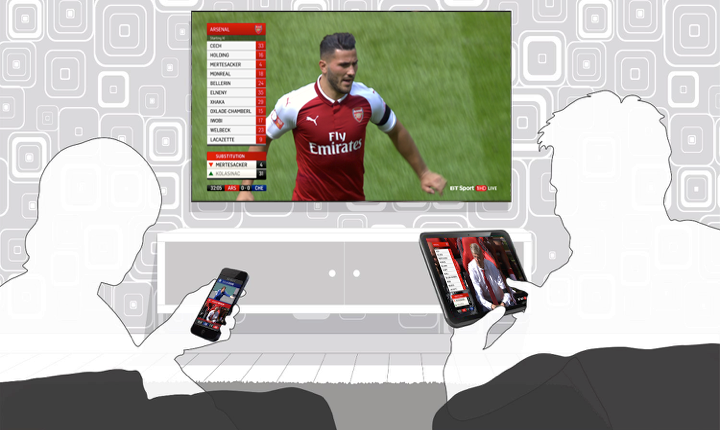 2-IMMERSE  is a collaborative project co-funded by the European Commission's Horizon 2020 Research Programme. Partners in the project include broadcasters, producers, rights holders, technology companies and universities to design, build and test four prototype experiences involving live performance and sport. The project's ambition is to deliver technology enabling services 'to immerse' audiences in shared and personalised multiscreen experiences. You can read the introduction to the project achievements here: 2immerse-project-guide.
2-IMMERSE  is developing prototypes of multi screen experiences for 'any device' environments.  These experiences will merge broadcast and broadband content with the benefits of social media. One example, and our first prototype, intended to enhance the viewing of performance in the home, can be seen in our video here.
To deliver the prototypes, 2-IMMERSE  is building a platform based on a relatively new specification for television called HbbTV2.0. The project will thus highlight the capabilities of the HbbTV2.0 specification and contribute towards its evolution.
2-IMMERSE will explore the benefits and challenges of object based broadcasting; that is where content objects are rendered at the client device (the television) rather than prior to transmission at the broadcaster.
2-IMMERSE is intended to be of interest to four key groups, and this website offers elements for each one:
General Public – the prototypes, which we hope are exciting visions for multi-screen experiences, are outlined in non-technical language.
Academics – our lists of deliverables and our journal articles detail the papers for those who require rigorous presentation of scientific results.
Programme makers and commissioners – both the prototypes and the deliverables present exemplars of production practice, as well as object-based experience design and production workflows plus tools with which to explore these.
Production engineers and suppliers – key deliverables outline concise and convincing presentations of exploitation opportunities and potential business models for ITC suppliers, broadcasters, production houses and public venues.
 2- IMMERSE  runs from 1 December 2015 to 30 November 2018.