2-IMMERSE at NAB 2018
The trade fair, exhibition and conference NAB is one of the fixtures on the calendars of all the key influencers in the broadcasting industry. NAB, which took place 7-12 April in Las Vegas, and its sister conference IBC, in Amsterdam 13-18 September, are great litmus tests for what is important for the industry. This year the idea of immersion was strongly featured and there was a great deal of interest in high resolution VR technologies.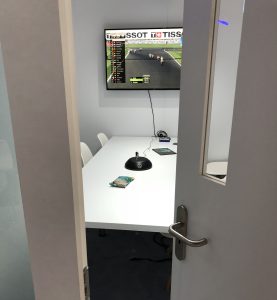 ChyronHego, partner in 2-IMMERSE and provider of sports graphics and data to the broadcasting industry, took to NAB our project's interpretation of what immersion can mean. ChyronHego used the multi-screen object based broadcasting concept demonstrated by the MotoGP service prototype (which can be seen in this video) to showcase the way we believe we can immerse viewers in an experience across multiple screens.
With private demonstrations in meeting rooms on the ChyronHego stand (the main stand is above, our demo set-up to the right), the work assumed a slightly mysterious hue. Since it remains a prototype, it was inappropriate to place our MotoGP demo front-and-centre of the ChyronHego stand, since such space is reserved for today's products.
In private presentations, however, the work was introduced to many key influencers from more than 15 different broadcasters based in Germany, Switzerland, Sweden, USA, Norway and the UK. ChyronHego's Director of Software Development Stefan Fjellsten, who led the interactions, was delighted with the response:
It exceeded my expectations. Everyone was really positive with some asking for exclusive rights to the technology in their territory, and all of them trying to work out how the capability could be applied for the content rights they have.
The feedback and interest we garnered through this comparatively low-key display of our ideas at NAB is really encouraging.  Alongside the feedback we are getting from users it suggests strongly we are following a path that interests providers, rights holders and their viewing public. It also prompts us to be bold as we plan to provide a more comprehensive display of the project's results at this year's IBC iin the early autumn.
Thanks to Stefan Fjellsten for the photographs.