We won! "A very sophisticated application…"
DOUG WILLIAMS from BT R&D reports on a notable success for the project: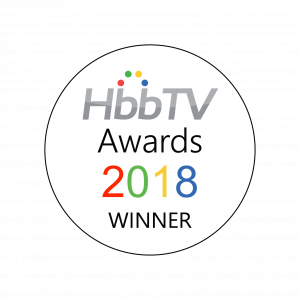 2-IMMERSE are very pleased to report that the multi-screen presentation of MotoGP, developed as part of the 2-IMMERSE project has won the 2018 'Best multiscreen HbbTV service" award from the HbbTV Association. (Note for new readers, HbbTV is an abbreviation for 'Hybrid broadcast broadband TV').
The HbbTV Association and Deutsche TV-Platform announced the winners of the HbbTV Awards 2018 at a ceremony on November 14, 2018, as part of the 7th HbbTV Symposium and Awards, which took place in Berlin under the theme Growing Value Through HbbTV.
Michael Probst, from IRT, was there to receive the award on behalf of the project.
The Best Multiscreen Service Award recognises research and innovations in HbbTV services running across multiple screens. Entrants were asked to demonstrate how their service will bring value to the viewer's experience and to the service providers.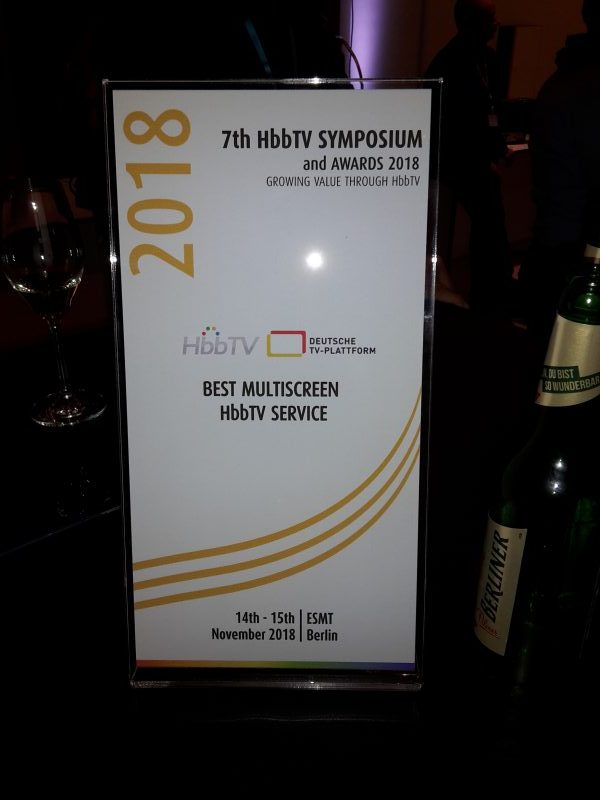 In our submission we explained that the service concept was a multi-screen interactive presentation of the 2017 UK MotoGP race and that it runs on an HbbTV emulator installed on an Intel NUC and, in cut down form, directly on a HbbTV2 TV. We explained that the application allows users to watch the race on TV and access additional video, graphics and data driven content on a companion screen and that the auxiliary screen could be used to: trigger replays on the main screen; customise the leader board on the TV and to cast on board bike cams to the main screen.
The Jury quote accompanying the award described the service concept as:
A very sophisticated application, HbbTV 2.0 and Multiscreen at the highest level.
The service concept was also runner up for the Grand Prix prize awarded to the best of the best submissions to the HbbTV awards.