Success for 2-Immerse at TVX
Jie Li honoured with Best Paper Award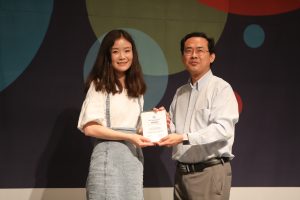 On 27 June Jie Li of the Distributed and Interactive Systems (DIS) group at 2-IMMERSE partner CWI was awarded with the Best Paper Award at ACM TVX 2018, the ACM International Conference on Interactive Experiences for Television and Online Video. Li won the award for the paper 'A New Production Platform for Authoring Object-based Multiscreen TV Viewing Experiences'. Outlining research done within 2-IMMERSE, the paper has as co-authors Pablo Cesar, Maxine Glancy (BBC), Jack Jansen and Thomas Röggla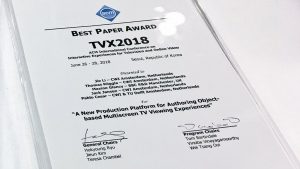 Multiscreen TV viewing refers to a spectrum of media productions that can be watched on TV screens and companion screens such as smartphones and tablets. TV production companies are now promoting an interactive and engaging way of viewing TV by offering tailored applications for TV programs.
However, viewers are demotivated to install dozens of applications and switch between them. This is one of the obstacles that hinder companion screen applications from reaching mass audiences. To solve this, TV production companies need a standard process for producing multiscreen content, allowing viewers to follow all kinds of programs in one single application. This paper proposes a new object-based production platform for authoring and broadcasting programs for multiscreen.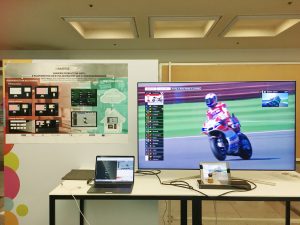 Besides the awarded paper, the DIS group also presented a demo at the conference, showcasing object-based live broadcasting of a sports event, to both a large TV screen and companion screens. The demo included both the producer and the user side. The producer side takes place inside an outside broadcast truck, where the director/producer can insert on-demand snippets and interactive components in the live broadcast. The user side is a home, where a viewer with a TV screen and several companion devices enjoy a personalized and interactive experience.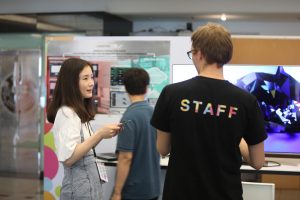 CWI's Distributed and Interactive Systems (DIS) research group focuses on facilitating and improving the way people access media and communicate with others and with the environment. They address key problems for society and science, resulting from the dense connectivity of content, people, and devices. The group uses recognized scientific methods, following a full-stack, experimental, and human-centered approach.
More at TVX from BBC and IRT
A work-in-progress paper submitted by BBC and IRT explores the potential of augmented reality technology as a novel way to allow users to view a sign language interpreter through an optical head-mounted display while watching a TV programme. We address the potential of augmented reality for personalisation of TV access services. Based on guidelines of regulatory authorities and research on traditional sign language services on TV, as well as feedback from experts, we justify two design proposals. We describe how we produced the content for the AR prototype applications and what we have learned during the process. Finally, we develop questions for our upcoming user studies.
Also at TVX BBC and IRT demonstrated results of our work stream which targets deploying the 2-IMMERSE apps on HbbTV 2.0 devices. In cooperation with Samsung we showed the 2-IMMERSE MotoGP experience from Silverstone GP 2017 on a recent consumer device running an HbbTV 2.0 ready firmware.